Ideas for Workshops
These are suitable for sessions from an hour and a half to all day. Each art activity can be themed to suit current classroom topics. Discuss ideas and possibilities with June beforehand.
Junk Art workshops
Clay Modelling, Plaster Casting, ModRoc Modelling, etc
Mosaic
Wire or Withy & Tissue Modelling
Fabric painting
Flag making & Banners
Collage
Inventive Drawing & Painting
Papier Mache
Printmaking
Hat-making
Mask-making
Traditional Natural Crafts
Larger Projects
Conducted over several days and including preparatory ideas workshops with participants.
Murals - mosaic or painted
Environmental (pathways, gardens, etc, or projects involving the creative use of recycled materials)
Processional (linked to drama)
Stage sets
Benefits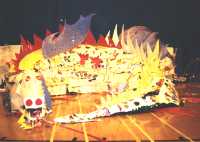 June McEwan, as a professional artist, has extensive experience of providing art workshops for children and adults of all abilities. She believes that you don't have to be "good at art" to participate in and benefit from creative expression. The vast majority of people attending June's sessions have given overwhelmingly positive feedback, and become more confident about their own abilities and potential. Having something to take home is a bonus.
Experience
June graduated from Duncan of Jordanstone College of Art, Dundee and has exhibited throughout Scotland. She has worked in many of the schools in Perth and Kinross and has created art projects with clients including Historic Scotland, Scottish Natural Heritage, Perth & Kinross Council, Stirling District Council, The Vivat Trust, Youth Enquiry Service, Perth & Kinross Community Arts, Perth & Kinross Community Education, YMCA, MSEEF, SPCPA, New Community Schools, and various other community groups.
School and community murals include Perth Academy, Crieff High School, Crieff Primary School, Stanley Primary School, Alyth Primary School, St Johns Primary School Perth, Goodlyburn Primary School Perth, Dalry Primary School Edinburgh, CATH Day Centre, the Muirton Mural, etc.
Groups worked with include disabled, children, adults, drug addicts, retired, teenagers, mental health, learning impaired, professional.
A criminal records check allowing work with children has been complete since 1994, renewed in 2002.
Prices
A full day art workshop with June McEwan is £100.00 plus materials and travel expenses. A half-day £55.00 plus materials and travel. Cost of materials varies according to the type of workshop, but confirmation of total costs is given before each workshop. Contact June for any further information.
Contact details
---